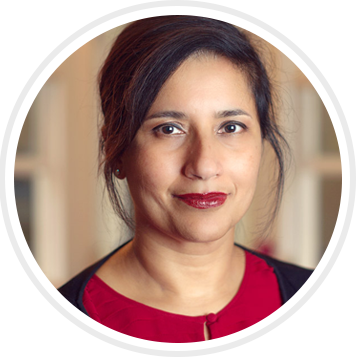 "Our life is what our thoughts make it"

Marcus Aurelius (Meditations)
DR. SHARMILA BETTS
Sharmila is a Clinical Psychologist with 35 years' experience in working with children, adolescents, families and adults. She has worked in both the private and public sectors.
In the early part of her career, Sharmila worked in developmental disability and child and family community health. She later worked in Child Psychiatry and then Child Protection at the Sydney Children's Hospital, Randwick. Sharmila has written expert reports on a range of psycho-legal issues and given evidence in the Family, Children's, and District courts. Sharmila has been in private practice since 1991.

Currently, Sharmila is only accepting new referrals for individual adults and couples.

The practice is located in Macquarie St, Sydney. 
Sharmila holds Master of Psychology and Bachelor of Arts (Hons.) degrees from The University of Sydney. She has been a Member of the College of Clinical Psychologists, Australian Psychological Society, since its inception; Member of the Australian Clinical Psychology Association and the Australian Association for Cognitive and Behaviour Therapy. Sharmila has been a registered Psychologist in NSW since the commencement of registration in 1991. Sharmila is registered with The Psychology Board of Australia (which has replaced the NSW Board) and has specialist endorsement in Clinical Psychology. She regularly provides supervision to clinical psychologists. Sharmila has given lectures and workshops to medical, educational and child-care communities, as well as psychologists and clinical psychologists. Sharmila is often consulted by the media about a range of psychological issues.
Sharmila uses evidence-based techniques to help you or your child or adolescent to overcome problematic thoughts, feelings and behaviour. Sharmila's interventions are drawn from Cognitive-Behavioural Therapy (CBT) and Acceptance and Commitment Therapy (ACT). CBT is based on the concept that thoughts (or cognitions) influence feelings and behaviours and the resulting behaviours and emotions can influence thoughts. The aim in CBT is to identify unhelpful thoughts, feelings and behaviour and develop skills to manage these aspects of your life. CBT is divided into behaviour therapy and cognitive therapy. Behaviour therapy is based on the theory that behaviour is learned and therefore can be changed. Behavioural techniques include relaxation training, activity scheduling and behaviour modification. Cognitive therapy is based on the theory that upsetting emotions and problematic behaviours are caused by unhelpful patterns of thinking. Therapy focuses on replacing these unhelpful thoughts with more constructive and helpful thoughts. The change in thinking style leads to improvements in problematic thoughts, emotions and behaviour. Skills training (such as parent training, stress management, anger management) is at the core of CBT.
ACT is an approach that focuses on balancing acceptance and change in dealing with difficult feelings and thoughts. ACT draws on acceptance and mindfulness strategies to deal with thoughts, feelings, sensations, memories, and other aspects of one's mind. The focus is on noticing and accepting these experiences, especially those that are unwanted.
This helps you to develop a sense of yourself as an observer of events in your mind that is distinct or separate from the difficult thoughts, feelings, sensations and memories. ACT frees you from being caught up in the many experiences in your mind. In turn, this approach helps to identify your personal values and goals, leads to mental flexibility, and reduction in stress.
Sharmila is particularly interested in understanding your concerns from a developmental (childhood to adulthood) and attachment (between you as an infant and your primary caregiver) perspective. This approach gives a comprehensive understanding of the influences that led to the currently problematic thoughts, feelings, and behaviours.
Understanding the way in which your thoughts, feelings and behaviours have developed since childhood, is essential to understanding psychological issues Sharmila deals with in adults.